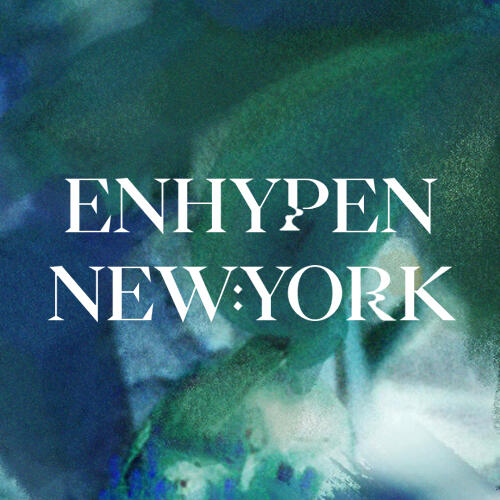 ENHYPEN NYC BANNER PROJECT
Hello! We are a team of ENGENE planning a banner project for ENHYPEN's New York tour stop on 10/15 at Radio City as well as a Heeseung birthday event, please follow us on twitter or IG for updates!We will be using the hashtag #EnhypenOurDayOne for the banner project & #NYHeeDay for the Heeseung PHOTOZONE!
Who are we?
Hi! We are a group of ENGENE who are also fan artists! We've been following ENHYPEN ever since I-LAND days and want to do a super memorable project as a group as a thank you for all they have done for us! As a collective, we've done several large-scale projects for other groups and all have professional experience in graphic design, finance, business administration & illustration!
We plan on creating a banner project for all Engene attending the NYC stop as well as a Heeseung birthday project outside the venue to make it super memorable for both ENHYPEN & all ENGENE attending!
Please follow us on our social media accounts for updates!
---
Artists
TWIN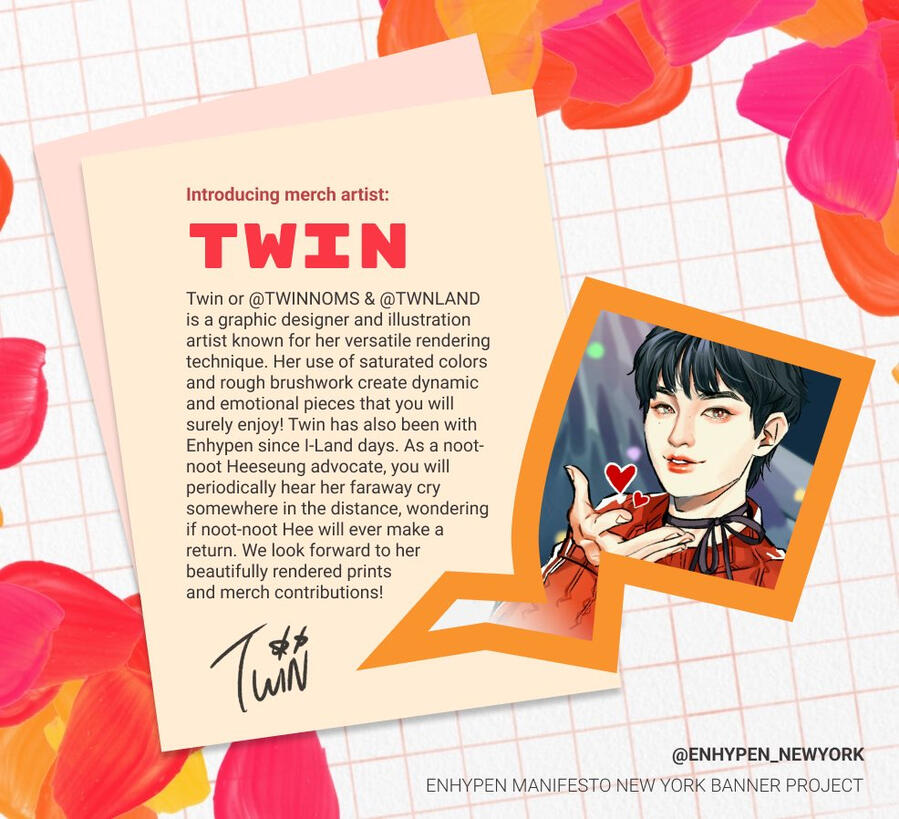 GUNNY
DISSU
FAQ
Q: When will the banners be held up?:
A: They will be held up during encore right after ParadoXXX Invasion and right before ENHYPEN's ending ment! Our full banner reveal can be found in our Banner project info as well as our home page! Instructions are provided in the back in English, Korean & Japanese as a reminder!Q When will your Heeseung birthday project take place?
A: We will be holding our #NYHeeDay event outside the venue BEFORE the concert! We will have it on the 14th (at BRYANT PARK 1-6PM) & across the street from Radio City on the 15th (9AM-6PM)!Please follow us on social media as location may change based off of weather!As much as we would like to hold a Heeseung project during the concert, in the past HYBE/Bighit has expressed disapproval and discourage member specific banner events to prevent fandom discourse. Because of this, we have chosen to host a small event outside the venue before the concert starts to ensure compliance with HYBE's previous stance about solo projects during concerts.Q: How do I donate?
A: We are offering two options to support our projects! One is to donate & the other is to buy our merch!To buy merch please visit our shop here! Everything was drawn buy our merch team exclusively for the NYC stop!To donate please visit our ko-fi here!Please remember to take a screenshot of your donation! & Once you have donated, please also fill out our donor form here!Our donation tier list can be found here!Q: What's the difference between donating and buying merch?
A: Donating comes with a banner & tiered merch depending on which tier you donate to! Buying merch separately is just buying that individual merch item only! Merch available for purchase is all on hand and is ready to ship out ASAP!Q: How are funds going to be allocated?
A: The funds are being split to fund both the banner project and our Heeseung birthday event! But primarily the banner project!We do recognize that there is concern about how funds are being handled as this is a fan run project, (especially with recent news of a zine where an admin embezzled funds; & since the zine was tied to their personal account, there was no recourse). Our finance lead & accountant for our project (@DISEQUIL) has decided to tie everything to her business accountant will be releasing a financial summary at the end of the project. She graduated with an accounting degree and is currently working in the finance field, so we trust that Dissu will manage all funds with transparency and with integrity. Dissu has also worked and had done large scale charity projects in the past, so she has a lot of experience with handing large scale monetary transactions. If you have any questions, please do not hesitate to reach out to her as she welcomes any questions relating to the finances of this project!
Please note that presently, this is a fan run & fan funded project as there are no official projects currently confirmed by HYBE. We strive to be transparent as possible with all of our financing and merch production & have an in house accountant on our team to ensure that everything is financially compliant.
#NYHeeDay Birthday Project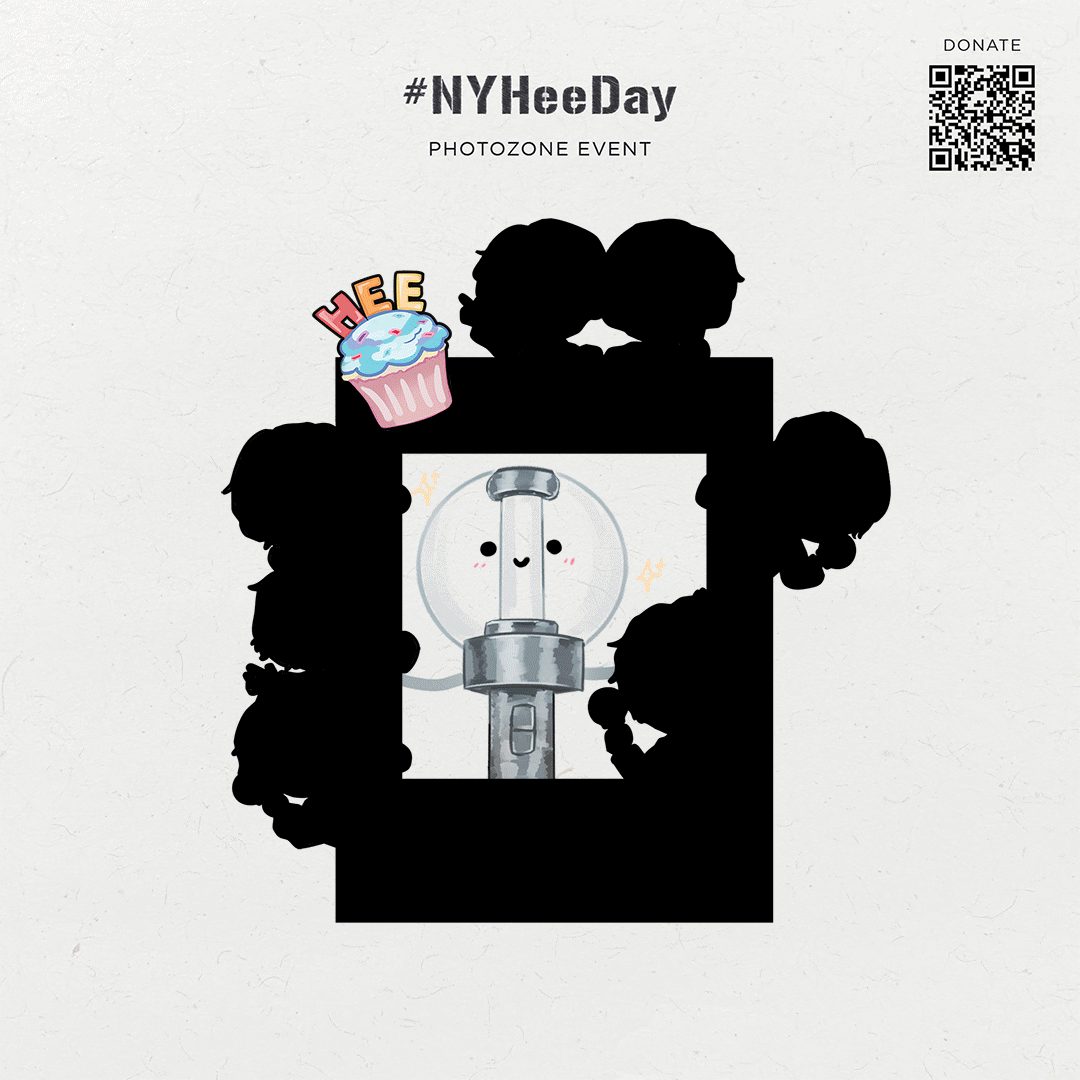 ENGENE, do you ever DREAM OF DREAMS? We proudly present our Heeseung Birthday project in NYC! This project will allow ENGENE attending the NYC stop to take a photo as a keepsake with our giant polaroid! (IT'S LIKE A POLAROID LOVE) & It features all members + Heeseung in a birthday hat & cupcake! 🥳🎂The polaroid design features all members dressed in their CHAMBER 5 colors (and fruit accessory) but have their MANIFESTO styling! Much like our NYC banner project for ENHYPEN, we wanted to have some throwbacks to older eras while celebrating the present & Hee's birthday!Our event will be held outside the venue BEFORE the concert:📍 OCT 14: BRYANT PARK 1-6PM
📍 OCT 15: 6TH AVE FOUNTAIN (across the street from Radio City) 9AM - 6PMOur team will be there to assist you in taking photos if needed if you want a solo shot or group! :)Please follow us on TWITTER for updates as location may change due to weather. Feel free to also use the hashtag #NYHeeDay (a pun on NYC + Hee) & feel free to tag us in your photos! Hope to see you there!